Culurgionis
The first dish, like ravioli stuffed with potatoes, cheese and mint.
Preparation:
Mix flour and coarse meal, add heated water with a pinch of salt and an egg. Stir until the medium consistency of dough. In a separate pot prepare the "stuffing", grated cheese, then boiled potatoes, egg yolk and mint. Stir until a soft mixture. Roll out the dough in a width of 10 cm and for every 5 cm put a spoonful of mince, cover the top layer of dough and separate by a round stump with a diameter of 4 cm. Serve with a light tomato sauce or with butter and sage.
Area:
Gallura
Nord Ovest Sardegna
Ingredients:
For the dough: 250 g flour, 250 grams of coarse meal, 2 eggs, a pinch of salt, 200 ml of water.
Stuffing: 250 g potatoes, 300 grams of fresh sheep cheese, 1 egg yolk, a few leaves of mint and a pinch of salt.
Vertourmer 2.0
Vertourmer 2.0
The second edition del progetto di cooperazione territoriale transfrontaliera Ver.Tour.Mer, finanziato dal P.O. Italia -Francia Marittimo 2007-2013 della Comunita Europea, si caratterizza per la forte componente di innovazione tecnologica, volta ad allargare lórizzonte del marketing territoriale attraverso lútilizzo di tecnologie informatiche innovative che valorizzino la produzione delle eccellenze dei territori, non solo vitivinicole ma anche eno-gastronomiche.
> GO TO PROJECT SITE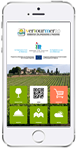 Scarica l'App
interattiva
e scopri Territori
Vini e Produttori