Zuppa di verdure alla corsa
The first dish with vegetables.
Preparation:
Boil beans in salted water during an hour and the half. In a deep pan stew coarsely chopped vegetables (potatoes, cabbage, onion and garlic) over a low heat, add the ham and olive oil, stirring occasionally. Then add the tomato paste, bay leaf, pepper and pour boiling water. Simmer for 30 minutes over low heat, and then add the beans and some water. Bring to a boil, add the pasta and cook until cooked. At the end add salt and serve with fresh basil.
Area:
Bastia
Calvi
Patrimonio
Porto-Vecchio
Sartene
Ingredients:
250 grams of beans, soaked in water overnight,
6 medium potatoes,
1 small cabbage,
2 onions and 4 garlic cloves,
a piece of ham (prosciutto corso) or bacon,
1 tablespoon of tomato paste
2 tablespoons of olive oil
1 bay leaf,
250 grams of green beans,
100 grams of pasta,
bunch of fresh basil,
salt pepper
Vertourmer 2.0
Vertourmer 2.0
The second edition del progetto di cooperazione territoriale transfrontaliera Ver.Tour.Mer, finanziato dal P.O. Italia -Francia Marittimo 2007-2013 della Comunita Europea, si caratterizza per la forte componente di innovazione tecnologica, volta ad allargare lórizzonte del marketing territoriale attraverso lútilizzo di tecnologie informatiche innovative che valorizzino la produzione delle eccellenze dei territori, non solo vitivinicole ma anche eno-gastronomiche.
> GO TO PROJECT SITE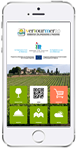 Scarica l'App
interattiva
e scopri Territori
Vini e Produttori