Zuppa di farro
The widespread first dish, typical of the traditional cuisine of Lucca.
Preparation:
Finely chop all the vegetables and stew with meat, salt. Add diced bacon, sliced potatoes, peeled tomatoes and continue to simmer over medium heat. Then add the parsley, beans, leave on the fire, stirring a couple of minutes, then pour 1 liter of hot water. Continue to cook for about half an hour, then blend until a creamy liquid. Rinse the farro and add to the sauce, bring to a boil, stirring all the time, cook for 20-25 min. At the end add salt, pepper, olive oil.
Area:
Colline Lucchesi
Montecarlo
Ingredients:
200 grams of farro, 150 grams of boiled beans, 200 grams of peeled tomatoes, 1 carrot, 1 zucchini, 1 onion, 150 grams of potatoes, 100 grams of cabbage, 50 g of bacon, parsley, olive oil, salt and pepper.
Vertourmer 2.0
Vertourmer 2.0
The second edition del progetto di cooperazione territoriale transfrontaliera Ver.Tour.Mer, finanziato dal P.O. Italia -Francia Marittimo 2007-2013 della Comunita Europea, si caratterizza per la forte componente di innovazione tecnologica, volta ad allargare lórizzonte del marketing territoriale attraverso lútilizzo di tecnologie informatiche innovative che valorizzino la produzione delle eccellenze dei territori, non solo vitivinicole ma anche eno-gastronomiche.
> GO TO PROJECT SITE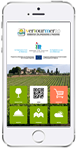 Scarica l'App
interattiva
e scopri Territori
Vini e Produttori