Pansotti con salsa di noci
Panzotti in peanut sauce - a typical first course of Ligurian cuisine.
Preparation:
Process the mix of herbs (spinach/celery), removing solid stems, wash and cook for 20 minutes in salted water. Press out and grind finely. Add the egg, nutmeg, grated cheese and salt. Mix well.
Prepare the dough: add an egg and a pinch of salt to flour. Stir until smooth, gradually adding a little water. Divide the dough into 2 parts. Flatten 1 of the pieces of dough with your open hand and run it through the machine. Cover the rest of dough with a moistened cloth for the dough not to dry up. Cut the pasta layers into squares. Put a spoonful of filling in the middle, close in the form of a triangle and secure the ends of the ravioli, pressing with a fork. Throw panzotti in boiling salted water. Cook until tender, drain and serve with peanut sauce.
Area:
Golfo dei Poeti e dintorni
Ingredients:
For the dough
350 g of flour
1 egg
water
a pinch of salt
Filling:
1 kg of a mixture of herbs and spinach / celery
50g of grated hard cheese grana
200g of fresh serum
nutmeg
vegetable oil, salt
peanut sauce
Vertourmer 2.0
Vertourmer 2.0
The second edition del progetto di cooperazione territoriale transfrontaliera Ver.Tour.Mer, finanziato dal P.O. Italia -Francia Marittimo 2007-2013 della Comunita Europea, si caratterizza per la forte componente di innovazione tecnologica, volta ad allargare lórizzonte del marketing territoriale attraverso lútilizzo di tecnologie informatiche innovative che valorizzino la produzione delle eccellenze dei territori, non solo vitivinicole ma anche eno-gastronomiche.
> GO TO PROJECT SITE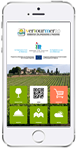 Scarica l'App
interattiva
e scopri Territori
Vini e Produttori