Frittelle di castagna
Chestnut Pancakes - special winter dessert, typical for Lunigiana.  Very simple to cook, with the use of flour from chestnuts picked up in the forest area of ​​Tuscany.
Preparation:
Squeeze the raisins soaked in warm water. Add water to chestnut flour in amount necessary to form a mass of soft consistency, and then add 2 tablespoons of vegetable oil and sugar. Stir well, then cover the dough and leave in a warm place for an hour. Then fry the pancakes on both sides and put on paper, sprinkle with powdered sugar. Then put into the baking sleeve and leave in the oven for another 15 minutes at a temperature of 160 °; serve hot.
Area:
Bolgheri - Castagneto Carducci
Ingredients:
For 4 servings: 300 g of chestnut flour, 50 grams of raisins, 50 g of sugar, vegetable oil, a bag of vanilla sugar.
Vertourmer 2.0
Vertourmer 2.0
The second edition del progetto di cooperazione territoriale transfrontaliera Ver.Tour.Mer, finanziato dal P.O. Italia -Francia Marittimo 2007-2013 della Comunita Europea, si caratterizza per la forte componente di innovazione tecnologica, volta ad allargare lórizzonte del marketing territoriale attraverso lútilizzo di tecnologie informatiche innovative che valorizzino la produzione delle eccellenze dei territori, non solo vitivinicole ma anche eno-gastronomiche.
> GO TO PROJECT SITE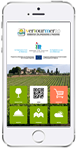 Scarica l'App
interattiva
e scopri Territori
Vini e Produttori