Fiadone
Dessert based on brocciu cheese.
Preparation:
Strain the curd through a sieve. Beat up the whites with a pinch of salt and separately the yolks with sugar until foaming, gradually add grated rind of 2 lemons, liqueur, 2 tablespoons of lemon juice and cottage cheese, still whisking. Then mix with whipped whites, stirring gently from top to bottom, and then spread the mixture in a baking dish (previously greased or using baking paper). Bake in a well-heated oven at 180° C for 40-45 minutes until the crust. Cool it after baking and cut into squares. Serve with fresh fruit and chocolate cream
Area:
Bastia
Calvi
Patrimonio
Porto-Vecchio
Sartene
Ingredients:
500g brocciu cheese (sheep cheese)
250 grams of sugar,
6 eggs,
2 lemons,
4 tablespoons of brandy (or other liqueur)
a pinch of salt
Vertourmer 2.0
Vertourmer 2.0
The second edition del progetto di cooperazione territoriale transfrontaliera Ver.Tour.Mer, finanziato dal P.O. Italia -Francia Marittimo 2007-2013 della Comunita Europea, si caratterizza per la forte componente di innovazione tecnologica, volta ad allargare lórizzonte del marketing territoriale attraverso lútilizzo di tecnologie informatiche innovative che valorizzino la produzione delle eccellenze dei territori, non solo vitivinicole ma anche eno-gastronomiche.
> GO TO PROJECT SITE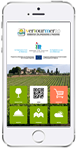 Scarica l'App
interattiva
e scopri Territori
Vini e Produttori