You are here
Clos de Bernardi - Jean-Laurent De Bernardi
Clos de Bernardi - Jean-Laurent De Bernardi

In the center of the village of Patrimonio there is a nineteenth century building in dark stone reflecting a long history, and a large estate surrounded by walls: The Clos De Bernardi. Forty years of experience, three generations of winemakers whose concern has always been to enhance the terroir specific area .... today Jean-Laurent de Bernardi, sixty years old, elegant and relaxed, does not break the family tradition. In love with his land, President of AOP Heritage, he guarantees with humility and security a high quality wine obtained through traditional farming methods. Since the tradition is at the heart of its actions, not just due to nostalgia but more to ensure a natural production, organic, respectful of environment and professional at the same time. Very active in the center of the social life of the village, he promoted within all the winemakers the importance of producing under a biological label. This approach is paying off, as far as already half of producers accepted this challenge. Jean-Laurent and his brother Jean-Paul -the Clos de Bernardi is definitely a family affair! – are happy to share this love of the land, offering an excellent wine up to their dedication.
Vines:
Vermentino
Niellucciu
Muscat petits grains
Grenache

Pressatura diretta dell'uva intera, decantazione a freddo, fermentazione termoregolata intorno ai 18°-20°, affinamento in contenitori inox
SCHEDA ETICHETTA

Lieu-dit Santa Maria
20253&nbsp&nbsp Patrimonio - Haute Corse&nbsp&nbsp
Opening:
From Monday to Saturday 8:00 am to 12.00 and 2:00 pm to 7:00 pm. Until 8:00 pm in summertime.
Vertourmer 2.0
Vertourmer 2.0
The second edition del progetto di cooperazione territoriale transfrontaliera Ver.Tour.Mer, finanziato dal P.O. Italia -Francia Marittimo 2007-2013 della Comunita Europea, si caratterizza per la forte componente di innovazione tecnologica, volta ad allargare lórizzonte del marketing territoriale attraverso lútilizzo di tecnologie informatiche innovative che valorizzino la produzione delle eccellenze dei territori, non solo vitivinicole ma anche eno-gastronomiche.
> GO TO PROJECT SITE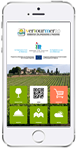 Scarica l'App
interattiva
e scopri Territori
Vini e Produttori