You are here
Cantina del Giogantinu soc coop agricola
Cantina del Giogantinu soc coop agricola

The classical tradition of the Vermentino wine of Gallura in a modern company with half a century of experience. Gallura is situated in the North East of Sardinia, well known as one of the most famous touristic areas in the world, an enchanting hilly region remarkable for its vine growing vocation. The special characteristics of the land, the climate and selection of vines, together with the passion of many viticultirists, are the essential requirements wich have given birth to a product steeped in nobility. The area concerned with the production of Giogantinu wines has achieved such a high level of specialisation that it is renowned for the superior quality of its products.
Vines:
Vermentino
Cabernet
Sangiovese
Merlot

via Milano 30
07022&nbsp&nbsp Berchidda&nbsp&nbsp (OT)&nbsp&nbsp
Opening:
by appointment Monday to Thursday 08:00-12:00 am and 03:00-06:00 pm, Friday 08:00-12:00 am and 03:00-05:00 pm, Saturday 08:00 am - 01:00 pm
Volume of wine produced (hl):
Vertourmer 2.0
Vertourmer 2.0
The second edition del progetto di cooperazione territoriale transfrontaliera Ver.Tour.Mer, finanziato dal P.O. Italia -Francia Marittimo 2007-2013 della Comunita Europea, si caratterizza per la forte componente di innovazione tecnologica, volta ad allargare lórizzonte del marketing territoriale attraverso lútilizzo di tecnologie informatiche innovative che valorizzino la produzione delle eccellenze dei territori, non solo vitivinicole ma anche eno-gastronomiche.
> GO TO PROJECT SITE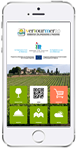 Scarica l'App
interattiva
e scopri Territori
Vini e Produttori