Karenzia Vermentino di Gallura Superiore D.O.C.G
Karenzia Vermentino di Gallura Superiore D.O.C.G
Vermentino made in vineyards 30 years old anni by our company members that produce only 3000 liters per ha.
Tasting notes:
A mellow wine with an intense aroma of apples and mature figs, honey, and dried nuts, which prevails over the fragrance of Meditterranean maquis.
Food matching:
Seafood, shellfish, crab. Fine with dessert.
Classification:
Vermentino di Gallura D.O.C.G
Vertourmer 2.0
Vertourmer 2.0
The second edition del progetto di cooperazione territoriale transfrontaliera Ver.Tour.Mer, finanziato dal P.O. Italia -Francia Marittimo 2007-2013 della Comunita Europea, si caratterizza per la forte componente di innovazione tecnologica, volta ad allargare lórizzonte del marketing territoriale attraverso lútilizzo di tecnologie informatiche innovative che valorizzino la produzione delle eccellenze dei territori, non solo vitivinicole ma anche eno-gastronomiche.
> GO TO PROJECT SITE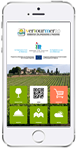 Scarica l'App
interattiva
e scopri Territori
Vini e Produttori