Vermentino di Gallura DOCG Spumante Brut
Vermentino di Gallura DOCG Spumante Brut
"Sparkling wine obtained from the grapes representing the highest expression of the viticulture of the Gallura.
Elegant and fresh, this ""Vermentino DOCG"" like silk caresses the palate and is the perfect complement to fine cuisine based on fish.
"
Tasting notes:
Straw-yellow color with light green hues. Fine and persistent perlage. Fresh aroma, fine, fruity, spicy, reminiscent of herbs, sage and citrus. Lively, fruity taste, fresh acidity, well-balanced, medium-bodied and very persistent.
Food matching:
Ideal as an aperitif or with appetizers, perfect accompaniment to fish dishes in general and shellfish in particular.
Classification:
Vermentino di Gallura DOCG Spumante
Vertourmer 2.0
Vertourmer 2.0
The second edition del progetto di cooperazione territoriale transfrontaliera Ver.Tour.Mer, finanziato dal P.O. Italia -Francia Marittimo 2007-2013 della Comunita Europea, si caratterizza per la forte componente di innovazione tecnologica, volta ad allargare lórizzonte del marketing territoriale attraverso lútilizzo di tecnologie informatiche innovative che valorizzino la produzione delle eccellenze dei territori, non solo vitivinicole ma anche eno-gastronomiche.
> GO TO PROJECT SITE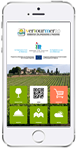 Scarica l'App
interattiva
e scopri Territori
Vini e Produttori