Vermentino dei Colli di Luni DOC
Vermentino dei Colli di Luni DOC
The vineyards of the company can be found in Groppolo, above Sarzana, and in Paterno above Sarzanello, both excellent hilly locations (south; south/west). Clay and limestone soils with a microclimate with no strong temperature variations. The age of the vines range between 10 and 30 years old.  The harvest takes place between the 28th of August  and the 20th of September. The production per hectare is  70/80 hl. The harvest takes place based on the maturity of the grape. The fermentation of the first harvest is followed by the pressing of the grapes, the must remains in contact with the grapes for 2 hours or more on the skins. A softpressing, a natural cold decantation,  at a controlled temperature, fermentation at 15/16° C, with a long stay on the yeasts, between 10 and 20 days. The other two harvests are submitted to completely different vinification processes. The ageing lasts 5 months in inox vessels, then come 30 days of bottle ageing and cellaring, at 15°c. The bottling process takes place at the beginning of February.
Tasting notes:
Colour: pale shiny yellow, turning green 
Aroma: fruity, finely floral and lingering
Flavour: full flavoured with an harmonic taste and slightely bitter  aftertaste.
Food matching:
White meat and fish, excellent as an aperitif
Uncork the bottle at the time of serving at a temperature of 10°–12° C.
Classification:
DOC Colli di Luni Vermentino
Vertourmer 2.0
Vertourmer 2.0
The second edition del progetto di cooperazione territoriale transfrontaliera Ver.Tour.Mer, finanziato dal P.O. Italia -Francia Marittimo 2007-2013 della Comunita Europea, si caratterizza per la forte componente di innovazione tecnologica, volta ad allargare lórizzonte del marketing territoriale attraverso lútilizzo di tecnologie informatiche innovative che valorizzino la produzione delle eccellenze dei territori, non solo vitivinicole ma anche eno-gastronomiche.
> GO TO PROJECT SITE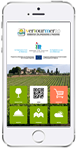 Scarica l'App
interattiva
e scopri Territori
Vini e Produttori