Vermentino Acquabona
The spurred cordon training system and the berry thinning ensures a low production and an excellent quality of the grapes.
Placed into bottles at the beginning of the spring after the harvest, the wine requires a few months of ageing in order to reveal its best organoleptic characteristics. 
It is tasted in long stemmed glasses, at a temperature of 11-12 degrees.
Tasting notes:
Aroma: strong and distintive with notes of citrus flowers
Food matching:
Boiled fish with a wide-range of sauces , appetizers, omelettes, pies and risottos with herbes
Grapes:
Vermentino 90% Viogner 10%
Vertourmer 2.0
Vertourmer 2.0
The second edition del progetto di cooperazione territoriale transfrontaliera Ver.Tour.Mer, finanziato dal P.O. Italia -Francia Marittimo 2007-2013 della Comunita Europea, si caratterizza per la forte componente di innovazione tecnologica, volta ad allargare lórizzonte del marketing territoriale attraverso lútilizzo di tecnologie informatiche innovative che valorizzino la produzione delle eccellenze dei territori, non solo vitivinicole ma anche eno-gastronomiche.
> GO TO PROJECT SITE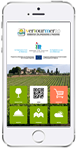 Scarica l'App
interattiva
e scopri Territori
Vini e Produttori