Torta Pasqualina
Easter cake recipe comes from ancient times, the culinary traditions of Liguria, easy to cook and generally made for Easter, from which the name occurs.
Preparation:
Peel and boil the chard in a pan, covered with a lid, for 5 minutes in salted water. Prepare the filling by mixing cottage cheese, 1 egg, parmesan and pecorino. Stir well; add salt and pepper, then spinach (cooked whole or chopped leaves). Put puff pastry to the bottom of a round aluminum baking cup, about 20 cm in diameter, not fully covering the edge. Fill the previously prepared stuffing from cottage cheese and chard. Before closing the top layer of dough, make 3-4 small notch in the stuffing into each recess break the egg. Put the second layer on the top and secure the edges of the cake. Coat the top layer with a beaten egg and cut holes in some places. Decorate to your taste and put in the oven for 50 minutes at 200 degrees. 
Area:
Golfo dei Poeti e dintorni
Ingredients:
350 g chard (a leaf vegetable – a kind of sugar beet), 150 grams of cheese, 50 g of parmesan 20 g of pecorino (sheep cheese), 2 packs of puff pastry, 5 eggs, salt and pepper.
Vertourmer 2.0
Vertourmer 2.0
The second edition del progetto di cooperazione territoriale transfrontaliera Ver.Tour.Mer, finanziato dal P.O. Italia -Francia Marittimo 2007-2013 della Comunita Europea, si caratterizza per la forte componente di innovazione tecnologica, volta ad allargare lórizzonte del marketing territoriale attraverso lútilizzo di tecnologie informatiche innovative che valorizzino la produzione delle eccellenze dei territori, non solo vitivinicole ma anche eno-gastronomiche.
> GO TO PROJECT SITE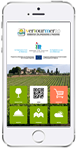 Scarica l'App
interattiva
e scopri Territori
Vini e Produttori