Sebadas
Sebadas – typical and very famous sweet dish of Sardinia.
Preparation:
Put the cheese and add 25 ml of water, a spoonful of semolina and grated lemon rind in a small saucepan. Leave on the heat until complete evaporation of water, until the cheese melts and turns into a creamy mixture. Dip your hands in cold water, from small portions to form pellets and dry on a towel. Meanwhile, prepare the dough from flour, fat and warm, slightly salted water. Roll out the dough layers and the put the ball out of the cheese filling to center of each circle, cover with another circle of dough; cut the dough rests, if it is necessary. Fry in butter and serve immediately with honey or powdered sugar.
Area:
Gallura
Nord Ovest Sardegna
Ingredients:
500 grams of flour, 400 grams of fresh sheep cheese (4-5 days), 50 g fat, 1 teaspoon of semolina, 1 lemon, oil for frying, honey or sugar.
Vertourmer 2.0
Vertourmer 2.0
The second edition del progetto di cooperazione territoriale transfrontaliera Ver.Tour.Mer, finanziato dal P.O. Italia -Francia Marittimo 2007-2013 della Comunita Europea, si caratterizza per la forte componente di innovazione tecnologica, volta ad allargare lórizzonte del marketing territoriale attraverso lútilizzo di tecnologie informatiche innovative che valorizzino la produzione delle eccellenze dei territori, non solo vitivinicole ma anche eno-gastronomiche.
> GO TO PROJECT SITE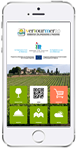 Scarica l'App
interattiva
e scopri Territori
Vini e Produttori