Mortedo
Vinification: fermentation without the skins with soft pressing
Preservation: in inox steel tanks at a controlled temperature.
Tasting notes:
Colour: straw yellow 
Aroma : centered on a ripe fruits, with scent of banana.  
Flavour: Full and creamy, fruity of a good consistency.
Food matching:
Typical Ligurian fish starters and main dishes.
Classification:
DOC Colli di Luni Vermentino
Grapes:
Vermentino 90% Albarola 5% Malvasia 5%
Vertourmer 2.0
Vertourmer 2.0
The second edition del progetto di cooperazione territoriale transfrontaliera Ver.Tour.Mer, finanziato dal P.O. Italia -Francia Marittimo 2007-2013 della Comunita Europea, si caratterizza per la forte componente di innovazione tecnologica, volta ad allargare lórizzonte del marketing territoriale attraverso lútilizzo di tecnologie informatiche innovative che valorizzino la produzione delle eccellenze dei territori, non solo vitivinicole ma anche eno-gastronomiche.
> GO TO PROJECT SITE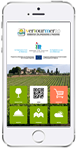 Scarica l'App
interattiva
e scopri Territori
Vini e Produttori