Mancini Primo
Oro e Anima - The golden soul of real Gallura, the mirror of its treasures, new horizons of refined taste. Mancini Primo, so the family has called this magnificent Vermentino di Gallura DOCG, dedicated to high level restaurant, because its quality is such as to place it at the top of the production of the Cantina delle Vigne di Piero Mancini.
Tasting notes:
Pale straw yellow with greenish hues, fruity, full-bodied with a somewhat bitter aftertaste.
Food matching:
Excellent as aperitif, ideal with fish, shellfish and white meats.
Classification:
Vermentino di Gallura Superiore
Vertourmer 2.0
Vertourmer 2.0
The second edition del progetto di cooperazione territoriale transfrontaliera Ver.Tour.Mer, finanziato dal P.O. Italia -Francia Marittimo 2007-2013 della Comunita Europea, si caratterizza per la forte componente di innovazione tecnologica, volta ad allargare lórizzonte del marketing territoriale attraverso lútilizzo di tecnologie informatiche innovative che valorizzino la produzione delle eccellenze dei territori, non solo vitivinicole ma anche eno-gastronomiche.
> GO TO PROJECT SITE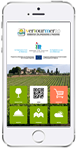 Scarica l'App
interattiva
e scopri Territori
Vini e Produttori