Kalsi
Made from Vermentino grapes, pressed directly with the grape stalk, the temperature drops for a first clearing of the must, fermented in steel, it clarifies in a natural way, exposed to low winter temperatures.
Tasting notes:
Colour: straw yellow with greenish highlights
Aroma: yellow peach, apple, acacia blossom, aromatic herbes and bergamot
Flavour: good freshness followed by full flavour, enveloping the taste.
Food matching:
Especially made for starters, it matches appetizers of seafood cruditè and white meat, creamy white fish risottos, pumpkin tortelli, vegetable tempura.
Vertourmer 2.0
Vertourmer 2.0
The second edition del progetto di cooperazione territoriale transfrontaliera Ver.Tour.Mer, finanziato dal P.O. Italia -Francia Marittimo 2007-2013 della Comunita Europea, si caratterizza per la forte componente di innovazione tecnologica, volta ad allargare lórizzonte del marketing territoriale attraverso lútilizzo di tecnologie informatiche innovative che valorizzino la produzione delle eccellenze dei territori, non solo vitivinicole ma anche eno-gastronomiche.
> GO TO PROJECT SITE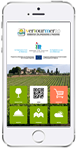 Scarica l'App
interattiva
e scopri Territori
Vini e Produttori