Ildobrandino
Area of production Suvereto. 
Vineyard in the locality of Fossoni via Dell'Incontri 
Age of vines 10years old
Number of plants per hactare: 6000/7000
Yield per plant 2,5/4,5 kg
Vinification without the skins with natural fermentation without any additional chemicals.
Rest for 8 months in steel tanks and oak/acacia half – barriques and 6 months of bottle ageing.
Tasting notes:
Colour: intense straw yellow 
Aroma: fruity notes with apricot and acacia blossom.  
Flavour: very savoury and lingering, with ending notes of almond and chestnut.
Food matching:
Apertifs, fish dishes, shell fish,
white meat, mushrooms,chickpea pies, savoury white pizzas (without tomatoe sauce), cheeses.
Classification:
Val di Cornia Doc Vermentino
Vertourmer 2.0
Vertourmer 2.0
The second edition del progetto di cooperazione territoriale transfrontaliera Ver.Tour.Mer, finanziato dal P.O. Italia -Francia Marittimo 2007-2013 della Comunita Europea, si caratterizza per la forte componente di innovazione tecnologica, volta ad allargare lórizzonte del marketing territoriale attraverso lútilizzo di tecnologie informatiche innovative che valorizzino la produzione delle eccellenze dei territori, non solo vitivinicole ma anche eno-gastronomiche.
> GO TO PROJECT SITE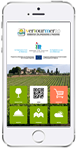 Scarica l'App
interattiva
e scopri Territori
Vini e Produttori