Filetti di orata con verdure
Sea fish, delicate to cook, whole or in fillets, on the grill or in the oven.
Preparation:
Marinate a fish in sauce of olive oil, basil, thyme, parsley, dill, salt and pepper for an hour. Then put the fillets into a pan. Cut the zucchini into thick slices, tomatoes and pepper into strips. Put a pan with the vegetables in the oven at a low temperature for ten minutes; add a tablespoon of water if necessary. Then add oil, fish fillets and stew with vegetables for a few minutes. Put fish fillets and vegetables on a plate in the form of flowers.
Area:
Bastia
Calvi
Patrimonio
Porto-Vecchio
Sartene
Ingredients:
4 fillets of sea bream, 50 ml of olive oil, 1 bunch of basil, thyme, parsley, fennel, a glass of water, juice of 1 lemon. Vegetables: 2 eggplants, 2 zucchinis, 2 tomatoes, 1 paprika.
Vertourmer 2.0
Vertourmer 2.0
The second edition del progetto di cooperazione territoriale transfrontaliera Ver.Tour.Mer, finanziato dal P.O. Italia -Francia Marittimo 2007-2013 della Comunita Europea, si caratterizza per la forte componente di innovazione tecnologica, volta ad allargare lórizzonte del marketing territoriale attraverso lútilizzo di tecnologie informatiche innovative che valorizzino la produzione delle eccellenze dei territori, non solo vitivinicole ma anche eno-gastronomiche.
> GO TO PROJECT SITE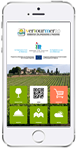 Scarica l'App
interattiva
e scopri Territori
Vini e Produttori