Domaine de la figarella AOC Corse Calvi
Domaine de la figarella AOC Corse Calvi
Total area of the vineyards: 26 hectares
Yield: 28 hl/ha
Vintage: prestige
Average age of the vines  : 25 years old. Soils: granitic sands, acidic soils. Manual harvests. Total harvest.  Direct pressing. Fermentation at a low temperature (16° circa)
Bottled in the winery.
Serving temperature: 17° C.
Vertourmer 2.0
Vertourmer 2.0
The second edition del progetto di cooperazione territoriale transfrontaliera Ver.Tour.Mer, finanziato dal P.O. Italia -Francia Marittimo 2007-2013 della Comunita Europea, si caratterizza per la forte componente di innovazione tecnologica, volta ad allargare lórizzonte del marketing territoriale attraverso lútilizzo di tecnologie informatiche innovative che valorizzino la produzione delle eccellenze dei territori, non solo vitivinicole ma anche eno-gastronomiche.
> GO TO PROJECT SITE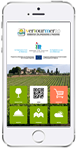 Scarica l'App
interattiva
e scopri Territori
Vini e Produttori