Cucaione
This magnificent Vermentino, one of the masterpieces of Piero Mancini, was created to celebrate the charm of Gallura. It is a wine of elegant personality, fine and harmonious, and the taste is very balanced, with a good structure.
Tasting notes:
Straw yellow with greenish hues, typically aromatic and elegant, balanced, smooth, well structured.
Food matching:
Ideal with fish, roasted or grilled meats. Great with shellfish.
Classification:
Vermentino di Gallura DOCG Superiore
Vertourmer 2.0
Vertourmer 2.0
The second edition del progetto di cooperazione territoriale transfrontaliera Ver.Tour.Mer, finanziato dal P.O. Italia -Francia Marittimo 2007-2013 della Comunita Europea, si caratterizza per la forte componente di innovazione tecnologica, volta ad allargare lórizzonte del marketing territoriale attraverso lútilizzo di tecnologie informatiche innovative che valorizzino la produzione delle eccellenze dei territori, non solo vitivinicole ma anche eno-gastronomiche.
> GO TO PROJECT SITE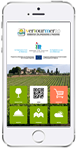 Scarica l'App
interattiva
e scopri Territori
Vini e Produttori