Colli di Luni Vermentino Poggio Paterno
Colli di Luni Vermentino Poggio Paterno
The vineyards are situated in Paterno above Sarzanello in excellent hilly locations (south – south/west) on clay, limy-sandy soils, and  in a microclimate without strong temperature variations. The average age of the vines is about 20 years old. The harvest takes place between the 29th of September and the 1st of October. The yield per hectare is  50,6 hl. After the crushing of the grapes, the must is left in contact with the skins for 24 hours at a very low temperature with leaching processes between the must and skin after a soft pressing, natural cold decantation, fermentation process in barriques at a natural temperature that ranges between 18° - 20° C with a long stay on the yeasts for 75 days with daily lees stirring. The ageing process lasts 2 and a half month in barriques. Afterwards come 120 days of bottle ageing and cellaring at 15°C. The bottling takes place in October and the wine is placed on the market 6 months later, in March of the following year.
Tasting notes:
Colour: straw yellow.
Aroma: green apple, sweet and sinewy pineapple.
Flavour: rounded full flavoured, soft.
Food matching:
Open the bottle at the time of serving at a temperature of 13°C – 15° C.
Classification:
DOC Colli di Luni Vermentino
Vertourmer 2.0
Vertourmer 2.0
The second edition del progetto di cooperazione territoriale transfrontaliera Ver.Tour.Mer, finanziato dal P.O. Italia -Francia Marittimo 2007-2013 della Comunita Europea, si caratterizza per la forte componente di innovazione tecnologica, volta ad allargare lórizzonte del marketing territoriale attraverso lútilizzo di tecnologie informatiche innovative che valorizzino la produzione delle eccellenze dei territori, non solo vitivinicole ma anche eno-gastronomiche.
> GO TO PROJECT SITE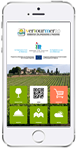 Scarica l'App
interattiva
e scopri Territori
Vini e Produttori