Chimera
The name takes inspiration from the 'dream' of every wine grower: to produce high quality grapes independently from any climatic conditions.
Tasting notes:
Colour: Pale yellow - bright greenish. Aroma: Good intensity with sensors of ripe yellow pulp fruit, hay and spring flowers. Taste: Large and imposing entrance, discrete acidity that balances the alcohol-glycerine strength, correspondence with the olfactory identifications, long and clean finish Service temperature: 8/10 °C
Food matching:
Good with grilled fish, white meats and soft cheeses. Superb as an aperitif.
Classification:
Vermentino di Sardegna DOC
Vertourmer 2.0
Vertourmer 2.0
The second edition del progetto di cooperazione territoriale transfrontaliera Ver.Tour.Mer, finanziato dal P.O. Italia -Francia Marittimo 2007-2013 della Comunita Europea, si caratterizza per la forte componente di innovazione tecnologica, volta ad allargare lórizzonte del marketing territoriale attraverso lútilizzo di tecnologie informatiche innovative che valorizzino la produzione delle eccellenze dei territori, non solo vitivinicole ma anche eno-gastronomiche.
> GO TO PROJECT SITE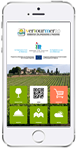 Scarica l'App
interattiva
e scopri Territori
Vini e Produttori