Cavagino
The Cavagino wine, considered as the "Cru" of the company, is 100% Vermentino. It is grown in 3 of the best vineyards of the area. 
Location of the vineayrds: Cavagino, on the hills of Sarzana (SP)
Location and altitude: 150/200 metre above sea level 
Type of soil: pebbly
Training System: Guyot
Vine density: 5000 plants per hectare
Average production per plant: 1.1/1.3 kg
Production per hectare: 60 q
Average age of the producing vines: 40 years
Time of year and type of harvest: mid september, manual harvest in 20kg cases. 
Type of tanks for fermentation: inox steel – barriques ( for 40% og the grapes) 
Vinification process: cold maceration on the skins for about 48hours, fermentation in barriques for 40% of the grapes 
Fermentation temperature: 15/17°
Ageing process and duration: in steel tanks untill May/June 
Serving temperature: 10° C.
Tasting notes:
Colour: intese straw - yellow.
Aroma: intense and complez with evident scents of Golden and William's apple.
Flavour: full and personal, rich in vigour and structure.
Food matching:
Particularly suitable with fish dishes, also suitable with vegetables and white meat, burridda Ligurian fish, baked sea bream.
Classification:
DOC Colli di Luni Vermentino
Vertourmer 2.0
Vertourmer 2.0
The second edition del progetto di cooperazione territoriale transfrontaliera Ver.Tour.Mer, finanziato dal P.O. Italia -Francia Marittimo 2007-2013 della Comunita Europea, si caratterizza per la forte componente di innovazione tecnologica, volta ad allargare lórizzonte del marketing territoriale attraverso lútilizzo di tecnologie informatiche innovative che valorizzino la produzione delle eccellenze dei territori, non solo vitivinicole ma anche eno-gastronomiche.
> GO TO PROJECT SITE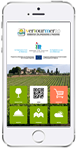 Scarica l'App
interattiva
e scopri Territori
Vini e Produttori