Caccia al Palazzo
The Vermentino and Malvasia harvest takes places in the last days of Septmeber. The grapes, harvested exclusively manually in 18 kg cases, they are placed in a cellar and left to fermentate for about 10 days at a low temperature. The temperature is kept cold and constant untill the wine bottling process, which takes place in the month of February.
Tasting notes:
Colour: pale yellow
At first smell it reveals notes of cytrus, with a characteristic smell of lemon leaf, followed by scents of white peach.
At first it is fresh and lively to the palate, with a fair fullness of taste in which the savouriness stands out, well integrated with a sweet and fruity  after taste.
Food matching:
Fish, cheeses and white meat.
Grapes:
Vermentino 85% Malvasia 15%
Vertourmer 2.0
Vertourmer 2.0
The second edition del progetto di cooperazione territoriale transfrontaliera Ver.Tour.Mer, finanziato dal P.O. Italia -Francia Marittimo 2007-2013 della Comunita Europea, si caratterizza per la forte componente di innovazione tecnologica, volta ad allargare lórizzonte del marketing territoriale attraverso lútilizzo di tecnologie informatiche innovative che valorizzino la produzione delle eccellenze dei territori, non solo vitivinicole ma anche eno-gastronomiche.
> GO TO PROJECT SITE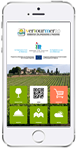 Scarica l'App
interattiva
e scopri Territori
Vini e Produttori