Buccellato
Preparation:
Mix the flour, sugar, butter, yeast, salt and one egg, add milk and a little warm water. Add raisins (previously softened in liqueur) and anise seeds to the gotten bakery dough. Leave the dough for 1 hour to rise. Then divide the dough into several parts and cut each part into strips or balls, making an incision on the surface of each form, to improve the dough fermentation. Leave for another 1 hour. Then lubricate the top of the molds with a mixture of sugar and eggs; cook in a well-heated oven for an hour.
Area:
Colline Lucchesi
Montecarlo
Ingredients:
500 g of flour
150 g of sugar,
50 g of butter,
20 g of yeast
2 eggs,
1 cup of milk
50 grams of raisins,
2 tablespoons of anise seeds
a pinch of salt
fy;line-height:150%'>a pinch of salt 
Vertourmer 2.0
Vertourmer 2.0
The second edition del progetto di cooperazione territoriale transfrontaliera Ver.Tour.Mer, finanziato dal P.O. Italia -Francia Marittimo 2007-2013 della Comunita Europea, si caratterizza per la forte componente di innovazione tecnologica, volta ad allargare lórizzonte del marketing territoriale attraverso lútilizzo di tecnologie informatiche innovative che valorizzino la produzione delle eccellenze dei territori, non solo vitivinicole ma anche eno-gastronomiche.
> GO TO PROJECT SITE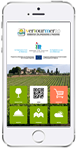 Scarica l'App
interattiva
e scopri Territori
Vini e Produttori