Bolgheri Vermentino
Our vineyards are located in the area of Bolgheri, exposure South South / West, sand and clayey soils with skeleton. The density of the plant is about 6,500 plants. Vinified in stainless steel barrels for 6 months with prolonged stay on yeast fermentation and 3 months of aging in bottle. Height: 30/50 m. (above sea level) Exposure: South, South-West Extension of the vineyards: 1.00 Ha Planting year: 1995 Features soil: sandy-loamy soils, with skeleton Training system: cordon Vermentino Harvest: mid-September Vinification and aging process: the grapes are fermented with selected yeasts. The temperature is controlled during the fermentation. The aging on the lees for 6 months Serving temperature: 14° C.
Tasting notes:
Vermentino is a long time now the white variety typical of the Tuscan coast, where fully expresses its organoleptic characteristics, the color is straw yellow with golden hues, the nose showed the typical notes of sage and Mediterranean as well as notes of citrus varietal the mouth is fresh, oily finish with a refreshing which makes it particularly suitable as an aperitif.
Food matching:
Perfect as an aperitif, excellent when paired with fish based dishes.
Grapes:
Vermentino 15% Sauvignon Blanc 15%
Vertourmer 2.0
Vertourmer 2.0
The second edition del progetto di cooperazione territoriale transfrontaliera Ver.Tour.Mer, finanziato dal P.O. Italia -Francia Marittimo 2007-2013 della Comunita Europea, si caratterizza per la forte componente di innovazione tecnologica, volta ad allargare lórizzonte del marketing territoriale attraverso lútilizzo di tecnologie informatiche innovative che valorizzino la produzione delle eccellenze dei territori, non solo vitivinicole ma anche eno-gastronomiche.
> GO TO PROJECT SITE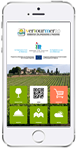 Scarica l'App
interattiva
e scopri Territori
Vini e Produttori