Bignei
From our vineyard Bignei, by the skilled hands of the magical Luciano, from the few golden bunches, in the elegance of a bottle and a livery that thrills him, was born our flagship. Fifteen tons of excellence for the lucky few and provident amateurs.
Tasting notes:
Colour: straw yellow
Aroma: fruity 
Flavour: balanced and fresh
Food matching:
Fantastic very cold for a quality aperitif , reaches its zenith on the table when the sea takes pride
Classification:
Colli di Luni Vermentino DOC
Vertourmer 2.0
Vertourmer 2.0
The second edition del progetto di cooperazione territoriale transfrontaliera Ver.Tour.Mer, finanziato dal P.O. Italia -Francia Marittimo 2007-2013 della Comunita Europea, si caratterizza per la forte componente di innovazione tecnologica, volta ad allargare lórizzonte del marketing territoriale attraverso lútilizzo di tecnologie informatiche innovative che valorizzino la produzione delle eccellenze dei territori, non solo vitivinicole ma anche eno-gastronomiche.
> GO TO PROJECT SITE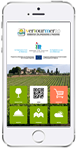 Scarica l'App
interattiva
e scopri Territori
Vini e Produttori