Bianco I Campi
It is a dry wine with evident fresh, savoury notes with a moderate alcoholic component. Serving temperature about 10°C, in medium size long stemmed glasses.
Tasting notes:
Color: intense straw yellow with delicate greenish highlights. 
Aroma: the wine has a good complexity odour, with evident scents of Golden apple and hawthorn blossom flowers. 
Flavour: to the palate it is moderately warm, with pleasantly evident savoury, fresh notes, the ending is aromatic and lingering.
Food matching:
It is a perfect match with whitebait salad and anchovies.
Classification:
IGT Golfo dei Poeti Bianco
Grapes:
Vermentino 50% Albarola 50%
Vertourmer 2.0
Vertourmer 2.0
The second edition del progetto di cooperazione territoriale transfrontaliera Ver.Tour.Mer, finanziato dal P.O. Italia -Francia Marittimo 2007-2013 della Comunita Europea, si caratterizza per la forte componente di innovazione tecnologica, volta ad allargare lórizzonte del marketing territoriale attraverso lútilizzo di tecnologie informatiche innovative che valorizzino la produzione delle eccellenze dei territori, non solo vitivinicole ma anche eno-gastronomiche.
> GO TO PROJECT SITE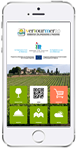 Scarica l'App
interattiva
e scopri Territori
Vini e Produttori