Atys
It is the most representative white wine of the estate, it is produced combining, like pieces of a mosaic, different micro-vinifications of Vermentino, in which you explore different aspects of the territory. 
Manual harvest in cases of 15 kg.
Pre – fermentative maceration of 48 hours at 4° C.
Fermentation in inox steel tanks with controlled temperature between 16°-18° C
Fermentation process : 3 weeks
Left in tank for five months on sediment
Light clarification with bentonite
Two months of bottle ageing.
Tasting notes:
Colour: intense yellow with golden glints
Olfaction: fresh notes of spring flowers and citrus 
Flavour: the first taste is soft, full–flavoured and mineral. 
The freshness gives the wine drinkability and length.
Food matching:
Ideal for aperitifs, excellent with fish and cheese.
Classification:
Vermentino Colli di Luni DOC
Vertourmer 2.0
Vertourmer 2.0
The second edition del progetto di cooperazione territoriale transfrontaliera Ver.Tour.Mer, finanziato dal P.O. Italia -Francia Marittimo 2007-2013 della Comunita Europea, si caratterizza per la forte componente di innovazione tecnologica, volta ad allargare lórizzonte del marketing territoriale attraverso lútilizzo di tecnologie informatiche innovative che valorizzino la produzione delle eccellenze dei territori, non solo vitivinicole ma anche eno-gastronomiche.
> GO TO PROJECT SITE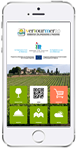 Scarica l'App
interattiva
e scopri Territori
Vini e Produttori