Argentaria
The name of the ancient city of Iglesias, silver city, as the historian Tangheroni defined it.
The large metal mines have hidden for millennia this precious metal.
Argentaria as when the mines of Villa Church unleashed the mad rush to easy wealth, in the middle 'of the thirteenth century.
Tasting notes:
Taste and color: yellow color with greenish glints, particularly intense and persistent scents with vegetal notes of the territory.
Hot fruity taste, persistent and well structured as the ancient lands on which we grow this wine.
Classification:
Vermentino di Sardegna DOC
Vertourmer 2.0
Vertourmer 2.0
The second edition del progetto di cooperazione territoriale transfrontaliera Ver.Tour.Mer, finanziato dal P.O. Italia -Francia Marittimo 2007-2013 della Comunita Europea, si caratterizza per la forte componente di innovazione tecnologica, volta ad allargare lórizzonte del marketing territoriale attraverso lútilizzo di tecnologie informatiche innovative che valorizzino la produzione delle eccellenze dei territori, non solo vitivinicole ma anche eno-gastronomiche.
> GO TO PROJECT SITE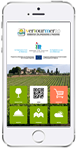 Scarica l'App
interattiva
e scopri Territori
Vini e Produttori