Aragosta alla catalana
A typical dish of Catalan cuisine, easy to prepare.
Preparation:
Boil a lobster in lightly salted water (just 20 minutes, depending on the size of the lobster). While the lobster is boiling, in a small container mix the oil, lemon (1/2 a lemon if a lobster is small), salt and pepper. Dice tomatoes and onions. Then process a boiled lobster by removing the inedible parts, then cut it into small pieces and mix with the pre-prepared mixture of oil, tomatoes and onions. Our Sardinian dish is ready. Serve hot.
Area:
Gallura
Nord Ovest Sardegna
Ingredients:
A lobster, two tomatoes, a little onion, oil, lemon, salt and pepper 
Vertourmer 2.0
Vertourmer 2.0
The second edition del progetto di cooperazione territoriale transfrontaliera Ver.Tour.Mer, finanziato dal P.O. Italia -Francia Marittimo 2007-2013 della Comunita Europea, si caratterizza per la forte componente di innovazione tecnologica, volta ad allargare lórizzonte del marketing territoriale attraverso lútilizzo di tecnologie informatiche innovative che valorizzino la produzione delle eccellenze dei territori, non solo vitivinicole ma anche eno-gastronomiche.
> GO TO PROJECT SITE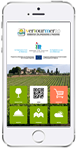 Scarica l'App
interattiva
e scopri Territori
Vini e Produttori