Ampelos
It is the second youngest DOC wine in the Province of La Spezia. 
The growing area goes from the borders of Tuscany, where many historical artifacts from Roman times can be found (Luni) with a beautiful amphitheatre, to the hills behind the city of La Spezia.
This wine is obtained by choosing the best grapes of the year, and the first soft-pressing must is left to ferment at a controlled temperature.
After ageing in glass it is placed on the market.
Tasting notes:
Colour: intense straw yellow 
Aroma: intense, distinctive, plesantly almondy 
Taste: hint of vanilla due to the fermentation in french oak woods
Food matching:
Ideal with grilled fish and seasoned white meat
Classification:
Colli di Luni Vermentino DOC
Vertourmer 2.0
Vertourmer 2.0
The second edition del progetto di cooperazione territoriale transfrontaliera Ver.Tour.Mer, finanziato dal P.O. Italia -Francia Marittimo 2007-2013 della Comunita Europea, si caratterizza per la forte componente di innovazione tecnologica, volta ad allargare lórizzonte del marketing territoriale attraverso lútilizzo di tecnologie informatiche innovative che valorizzino la produzione delle eccellenze dei territori, non solo vitivinicole ma anche eno-gastronomiche.
> GO TO PROJECT SITE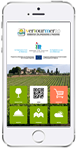 Scarica l'App
interattiva
e scopri Territori
Vini e Produttori