Alighino
Vinification: manual harvest, soft pressing, fermentation in steel tanks with selected yeasts.
Serving temperature : 10°C.
Sugar level: 2,13 gr/lt.
Total acidity: 5,30 gr/lt.
Tasting notes:
Colour: intense yellow.
Aroma : intense and lingering with evident fruity and floral notes mixed with light balsamic scents.
Flavour: savoury, structured, harmonious with fruity tastes.
Food matching:
Perfect with typical Tuscan fish and shell dishes, white meat and young cheeses.
Classification:
Terratico di Bibbona DOC Vermentino
Vertourmer 2.0
Vertourmer 2.0
The second edition del progetto di cooperazione territoriale transfrontaliera Ver.Tour.Mer, finanziato dal P.O. Italia -Francia Marittimo 2007-2013 della Comunita Europea, si caratterizza per la forte componente di innovazione tecnologica, volta ad allargare lórizzonte del marketing territoriale attraverso lútilizzo di tecnologie informatiche innovative che valorizzino la produzione delle eccellenze dei territori, non solo vitivinicole ma anche eno-gastronomiche.
> GO TO PROJECT SITE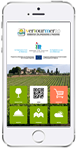 Scarica l'App
interattiva
e scopri Territori
Vini e Produttori