Ad 49
The grapes are manually harvested between  mid-August and the  beginning of September from a single vineyard and they are put into cases and taken into the cellar. 
Before the crushing takes place, a heat removal process is carried out with the use of dry ice in order to maintain the aromas. 
In order to start the fermentation process that takes place at a temperature of 16°C, the must is put into small steel tanks at a controlled temperature.
Classification:
Vermentino di Sardegna doc spumante metodo classico
Vertourmer 2.0
Vertourmer 2.0
The second edition del progetto di cooperazione territoriale transfrontaliera Ver.Tour.Mer, finanziato dal P.O. Italia -Francia Marittimo 2007-2013 della Comunita Europea, si caratterizza per la forte componente di innovazione tecnologica, volta ad allargare lórizzonte del marketing territoriale attraverso lútilizzo di tecnologie informatiche innovative che valorizzino la produzione delle eccellenze dei territori, non solo vitivinicole ma anche eno-gastronomiche.
> GO TO PROJECT SITE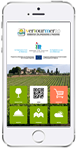 Scarica l'App
interattiva
e scopri Territori
Vini e Produttori