6 MURA bianco
It is a full bodied pale yellow Vermentino full of greenish highlights, with long bouquet, particularly delicate and elegant with scents of flowers and fruits (peach and apricot) and a final note of fresh citrus. To the palate it is broad-flavoured, velvety, savoury and fresh, with salty notes and a distinctive hazelnut aftertaste. The wine has a remarkable capability of bottle refining. It has an intense fruity aroma, and is an elegant and full bodied wine, that improves after a few years of bottle ageing.
Classification:
Vermentino di Sardegna DOC
Vertourmer 2.0
Vertourmer 2.0
The second edition del progetto di cooperazione territoriale transfrontaliera Ver.Tour.Mer, finanziato dal P.O. Italia -Francia Marittimo 2007-2013 della Comunita Europea, si caratterizza per la forte componente di innovazione tecnologica, volta ad allargare lórizzonte del marketing territoriale attraverso lútilizzo di tecnologie informatiche innovative che valorizzino la produzione delle eccellenze dei territori, non solo vitivinicole ma anche eno-gastronomiche.
> GO TO PROJECT SITE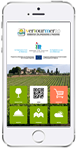 Scarica l'App
interattiva
e scopri Territori
Vini e Produttori