You are here
Territories of Vermentino
Territori del Vermentino
'This area includes the municipalities of Collesalvetti, Rosignano Maritime, Cecina and Bibbona.
SCHEDA TERRITORIO
'The Val di Cornia is a distinct area within the Maremma area. Situated at the southern end of the Province of Livorno, its borders are defined by the River Cornia.
SCHEDA TERRITORIO
Versilia belongs to the province of Lucca and its territory includes the land between the Apuan Alps and the coast, well known as a tourist destination for its beaches and seaside resorts.
SCHEDA TERRITORIO
Vertourmer 2.0
Vertourmer 2.0
The second edition del progetto di cooperazione territoriale transfrontaliera Ver.Tour.Mer, finanziato dal P.O. Italia -Francia Marittimo 2007-2013 della Comunita Europea, si caratterizza per la forte componente di innovazione tecnologica, volta ad allargare lórizzonte del marketing territoriale attraverso lútilizzo di tecnologie informatiche innovative che valorizzino la produzione delle eccellenze dei territori, non solo vitivinicole ma anche eno-gastronomiche.
> GO TO PROJECT SITE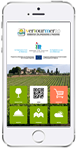 Scarica l'App
interattiva
e scopri Territori
Vini e Produttori